Hummus is probably one of the greatest and most delicious things in the world you can ever eat. It goes with tortilla chips, pitas, any sort of salad-in-a-wrap sort of lunch. It's multi-purpose and as cheap as it gets.
You could probably survive on a spoonful a day.
Ingredients for Hummus
You're going to need a bag of dried chick peas, which I would recommend buying from a "bulk food" store but you can get at any supermarket.
You'll also want:
Lemons
Garlic
Salt
Tahini
Don't be scared of tahini. It's just sesame seed paste.
There's one problem. Hummus is practically impossible to make unless you own a decent food processor.
How to Prepare Hummus
Rinse three cups of peas. Rinse the heck out of your peas. Then put them in a large pot. Add lots of fresh water.
Bring the pea-filled watery goodness to a healthy boil and skim off whatever that stuff is that floats to the top. Add a teaspoon of salt and cover everything up.
Drop the heat to medium and cook everything for about an hour and half to two hours. You should check it every once in a while to make sure the water hasn't boiled away too much. Check your peas to make sure they've gotten really soft.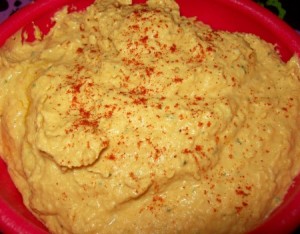 After about an hour or so, you can come back and finely chop five or six garlic cloves, and squeeze the juice out of a bunch of lemons.  You're going to need about a cup of fresh lemon juice, so you may want to try reading up on how to juice a lime but just do it for lemons.
Put your garlic and lemon juice in the food processor. Add a cup and a half of tahini, a teaspoon of salt. Process until the whole mixture is completely pureed.  Add a cup of water and continue processing until the whole mixture is smooth.
Once your chick peas are super soft from boiling for hours, add them to the mixture and process until the whole thing is basically a paste.
Once you're done you should have loads of the stuff, so you better like it.
Tips for Making Hummus
When you're ready to serve it you can add a bit of olive oil, lemon juice, and paprika to garnish the hummus.
Try it out with some plain tortilla chips, and then start experimenting. It will end up being a go-to dip.
If you cover it in the fridge hummus will last for at least a few days, but usually no more than a week.
If you want more great recipes like this homemade hummus recipe, be sure to subscribe to our e-mail newsletter.