This simple recipe for sweet and sour chicken doesn't use any crazy Chinese ingredients. It's basically the american-ized version of the dish. It's also very delicious.
This recipe is intended to be served with rice, but there is no rice in the recipe. Serve it with rice anyways.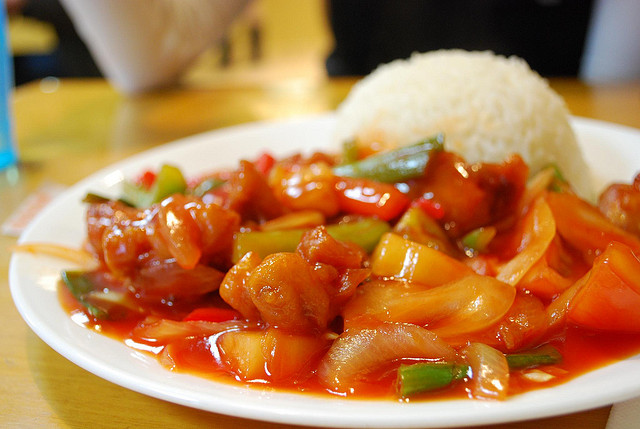 This sweet and sour chicken recipe uses this simple sweet and sour sauce recipe. An abridged version will be included below to keep everything on one page, but the sauce can be used for many other dishes as well.
Ingredients for Sweet and Sour Chicken
For this recipe, you will need:
Four boneless, skinless chicken breasts
One red pepper
One green pepper
Some finely chopped ginger
Five to seven garlic cloves, depending on how much you love garlic
A couple of onions
Some pepper
Vegetable oil
Optional: some sliced pineapple (usually from a can)
How to Make Easy Sweet and Sour Chicken
Bring a frying pan to medium heat and start cooking your chicken.
While your chicken is cooking, chop your red peppers, green peppers and onions into fairly large pieces. Big chunks of each is the general standard for sweet and sour chicken.
Finely chop your garlic cloves and your ginger.
While your chicken is (probably) still cooking, start preparing the sweet and sour sauce.
Combine:
Three quarters of a cup of sugar
Two thirds of a cup of water
A third of a cup of white vinegar
A quarter cup of soy sauce
About a tablespoon of ketchup
And about two tablespoons of corn starch
In a saucepan and bring to a boil. Cook for about 5-7 minutes or until the sauce thickens.
With your chicken (probably) about cooked, add a few tablespoons of vegetable oil to a frying pan and begin cooking your peppers, your garlic, and your ginger. Once the peppers have started to soften, add your onions. Cube up your chicken breasts and add those as well.
Pour your sweet and sour sauce overtop and allow to simmer for a few more minutes, and you're done.
Tips for Making Sweet and Sour Chicken
This recipe is written in an order that allows for the cooking times to align with your prep time. You can pre-make the sweet and sour sauce if you consider it simpler.
If you choose to use the pineapple, add it at the same time you re-add the chicken.
Some recipes suggest you cook the chicken along with the peppers. This one doesn't. It's for health reasons and for simplicity's sake. Do what you will.
Serve with rice.